How It All Began - 
Chapter 2: Always a Collector
If after reading Chapter 2 you'd like to read more, visit my bookshelf on Amazon.com -- thank you for your support!
I have often said that being a collector is part of my DNA.  My "condition" manifested itself when I was very young, but it has certainly come to full bloom with the Pooh Collection.

As of ten years old, I only had four plush Pooh stuffed animals: my first Pooh, a Pooh with a bell in the ear, a Pooh from Disney World and a large Pooh about 36" tall.  My parents gave me several Pooh toys including a Weeble Tree House, a metal spinning top, a corkboard, Pooh rubber figures and a ride-on Pooh rocking horse.  Our family didn't have a lot of money, so I did not have any actual Sears Pooh clothes. My mother cut out Pooh characters from color iron-on patch material, then attached the patches to general, less expensive clothes. 


Collecting Pooh memorabilia really didn't start until I was in my 20s.  Incidentally, this is also when I first owned a "real" Winnie-the-Pooh shirt.

Collecting Did Not Start with Winnie
Winnie-the-Pooh was not the first collection I started.  He was, however, probably the most normal thing I collected.

Clowns
Although creepy, I collected clowns.   Only a few.  Maybe seven or eight.  Clown collecting stopped when my Uncle Steve scared me while wearing a clown mask.  From that point forward the clowns stayed in a box in the basement. 

Virgin Mary Statues
I had a collection of Virgin Mary statues.  I know this seems rather odd and random.  In my defense, the collection was not something I sought out.  We inherited the collection when my father's mother passed away.  She was the one who collected them and I just played with the statues with my Barbies.  For Christmas, I asked my parents for an action figure Virgin Mary.  With movable arms Mary could climb trees with Barbie easier. Needless to say, Santa did not put that particular toy under the tree that year.

Bus Transfers
This next collection was a little gross.  The collection consisted of used paper bus transfers.  Sherman Boulevard, which is the street I lived on until I was eight, was a busy street for public buses.  On each of the corners of the Boulevard were bus stops.  People would discard their used, expired paper bus passes on the ground on the corners when they exited the bus.  Each day the color of the bus pass was different from the prior day and they were dated.  As a self-proclaimed groundskeeper of MY Boulevard, I took it upon myself to pick up the bus passes, unwrinkled them and put them in order by day.  They were kept in my playhouse in the backyard in a cardboard cigar box.  That was until my mother found them and scolded me for picking up germy paper.  "Who knows where these came from", said Mother.  I told her I knew exactly where they came from: "they were on the ground".   I remember saying this specifically because it was followed by a spanking and being sent to the bathroom to wash my hands and a time-out in my room.  That was the end of that collection.

Clothes Clips
Bus transfers were not the only germy collection.  I collected plastic clothes clips found on the floor under clothing racks at the department stores Gimbles and Boston Store. These clips kept the clothes from slipping off the hangers.   I liked going to Gimbles more than Boston Store because Gimbles had a cookie and chocolates counter in the basement we would visit after a shopping trip – if I was a "good girl".  However, I found more clips at Boston Store.


My mother did not seem to have as much of a problem with that collection.  I guess my looking for clothes clips while shopping kept me occupied so she could shop.  I only had a sandwich-sized baggie of clips.
Ventriloquist Dolls
Around seven I learned from my father that there were real people who gave Pooh and his friends their voices.  Learning that fact was a little like learning Santa Claus, the Easter Bunny and the Tooth Fairy were also NOT real.  According to my parents, I handled learning that fact much better than learning about Santa Claus.  My father told me Paul Winchell, who was the voice of Tigger, was a ventriloquist. He described how ventriloquism was "throwing your voice" to make it appear as though the dummy was talking.  You had to ensure your lips did not move to help with the illusion.  I thought having this talent was crazy neat and decided I was also going to be a ventriloquist when I grew up.  I asked my parents for a dummy and remember practicing for a while.  But, needless to say, that career decision didn't come to fruition as becoming a famous ventriloquist would take much more dedication than a seven-year-old possessed.  I did, however, collect Mortimer Snerd, Danny O'Day, Howdy Doody and Charlie McCarthy dummy dolls.


Music Boxes
Living downstairs from grandparents meant being spoiled with presents for birthdays and holidays and, well, just because.  Their favorite gifts for me were music boxes.  There was a clock store in town called Owl Imports that also sold music boxes.  It was right next to the bakery my grandmother frequented for rye bread.  The music box gifts didn't have a particular theme.  Interestingly, none of the music boxes my grandmother or parents gave me were Winnie-the-Pooh related.  I am not sure if receiving items as gifts constitute collecting the item but, regardless, I probably had 20-25 by the time we moved to Mequon when I was eight.  Once living in Mequon, music box gifts turned into clothes gifts, which were easier to ship. 


Gum Wrappers
I am not sure if I would consider my gum wrapper chain as a collection or not.  I had plenty of wrappers available to use as my father chewed a lot of gum. His favorite was Juicy Fruit.  A friend taught me how to create a gum wrapper chain.  Back then gum came in sticks that were in wrapped in foil paper which were wrapped in a paper wrapper printed with the gum name.  To make a link you fold the paper wrapper in half long-ways.  Then fold each end into the middle.  Fold the wrapper in half creating two slits or openings.  You slide the next links ends into the openings.  I thumb-tacked the chain to the perimeter of my bedroom and made it about ¾ of the way around, so the chain was approximately 36 feet.  I am not sure but the chain might still be in a box in my mother's basement.


Snoopy
If I had not become a Winnie-the-Pooh collector, I know I would have become a Charlie Brown and Snoopy collector.  I have always loved the Peanuts cartoons.  Anytime I hear the Beethoven song Schroeder plays on his piano I must stop and do "The Peanuts Dance".  I have a minor collection of Peanuts memorabilia – probably in the neighborhood of 40-50 items: figurines, pencils, a pencil sharpener, a few small plush Snoopy and some stickers. 

The Peanuts collection started when I was cast to play Snoopy in the musical play put on by the Sherman Park Roller Skating Rink.  Two blocks from our house was a Lutheran Church.  Their gym doubled as a roller-skating rink.  From age eight until sixteen I was part of the skating club.  I started out by taking lessons, joined the club and eventually went on to skate guard during Saturday's open skate.  I also became a skating instructor for beginner's lessons. 


Every year the skate club would put on a musical production.  The production director choreographed skating routines for each musical part and the skaters would lip sync and sing along to the songs.  Each show included between 75-100 kids and adults.  Parents would create the props for each number and they also sewed costumes for the skaters. 


By the time the production of "Charlie Brown, Snoopy and the Gang" was announced, I had become a very accomplished skater.  I could do spins and multiple rotation jumps.  There were about seven in the skate club who usually were cast in the lead roles in the productions because of their skating proficiency.  Happily, I was one of those seven.  When it came to auditioning for the lead roles, all the girls wanted to be cast as Lucy and all the boys wanted to be cast as Charlie Brown.  Tryouts would be held on Saturdays during the day.  Skaters would wait downstairs in the game room then one by one we were called upstairs to audition.


On Saturday night, if you got a role, the director called you at home.    When I got my call, I started crying when I was told which character I would play.  I was cast as Snoopy.  I remember saying, "They want me to be a dog?"  I was so sad I had not been cast as Lucy.  Lucy's roll went to Mary Sanders. 


I almost did not want to accept the part of Snoopy.  Little did I know the real star of that years' production ended up being Snoopy.  Snoopy had a lot of skate time while Lucy ended up having a pretty small part. 


My mother sewed the most amazing full-body, padded, white and black fur costume, much like the costumes worn at the Disney Parks.  However, in this case, the Snoopy head did not cover my face so I could see.  The feet went over my skates and an elastic band that looped between my skate wheels kept them secured.  The costume was hot to wear but it was hands down the best costume in the production.  I still have it today. 


The production ran for two weekends – six shows in total.  At the finale of each show the cast would come out to take a bow.  As customary with plays, the lead characters would come out last.  Lucy and Linus came out right before, you guessed it, Charlie Brown and Snoopy.  I was very happy I decided to play a dog and had not been cast as Lucy.


After the production, it was customary to go to a local pizza place called Organ Piper Pizza.  The lead cast would receive flowers and in the case of this production, toys of the character they played.  That is how my Snoopy collection started.  I received several Snoopy figurines from other actors in the play.  My father gave me a Snoopy phone.  I do not have the Snoopy collection displayed, but I still have it and it reminds me how things happen for a reason.  Being cast as Snoopy and not Lucy was probably one of my top ten best life experiences.

Mice
When I was eleven my family moved to Mequon, Wisconsin, which is a suburb of Milwaukee.  We lived on Briarhill Road.  Living on Briarhill made me feel like I had my own country as the lot size was just over an acre.  In Milwaukee, the yard was a 1/8th acre.  If you sneezed the neighbors would reply, "God bless you."


At first, it was a little difficult changing schools.  I started sixth grade at Steffen Middle school. For high school, I attended Homestead High.  One day while hanging out with friends, someone said something really funny.  I laughed so hard I started making a sort of snort-squeaking sound.  Kids at this age are notorious for giving people nicknames when random things happen.  From that snorting-squeaking experience I earned the nickname Mouse.   That nickname has stuck with me until today.  In fact, I had a boyfriend, Paul, who for the first two weeks of dating did not know my actual name.  I remember him asking me, "Can I ask you a personal question?"  I said sure.  He then asked, "What is your real name?  I assume it is not really Mouse".  That relationship did not last very long.


So, having that nickname resulted in collecting mice figurines and stuffed mice.  One of the stuffed mice was 48" tall.  I received him as a gift for my sweet sixteen birthday.  I never, however, collected Mickey Mouse. I only was interested in generic mice.  


One tragic thing happened as a result of having the nickname Mouse and being "all grown up" and wanting to be a "cool kid".  I had a Winnie-the-Pooh corkboard hanging in my bedroom.  Believing at the time I was not "into" Pooh any longer, I painted over Pooh with bright blue paint and added a picture of a gray mouse.   Needless to say, in hindsight, that was a huge mistake and I have since bought another corkboard on eBay like the one I destroyed.


Fuzzy Bugs & Owls
By high school, I should have known, if someone gave me a gift it might turn into a collection.  As a junior at Homestead, my boyfriend, Mike, put a little "fuzzy bug" in my locker as a surprise.  I referred to them as fuzzy bugs but what they really are is a small pompon with sticky feet, antennae and jiggly eyes.  In that era, they were a popular business tradeshow promotional item much like printed pens and magnets.  A business could order the bugs with a colored ribbon attached with their logo or tagline.  They came in multiple colors so, you guessed it, I had to collect all the colors.


I had ten or fifteen bugs and they needed a house.  I sanded and varnished an old log which was displayed on my dresser in my bedroom.  My father bought me a huge green fuzzy bug at a rummage sale.  It was about 100 times the size of the promotional pompons.  He became the king of the bug house.


After high school, I went to Carroll College in Waukesha, Wisconsin.  Waukesha was about an hour's drive from Mequon so I lived in the dorms on campus.  As a freshman, I lived in Kilgore Dorm and the rest of my years I lived in 406 Swarthout.    I majored in Communications with minors in Business and Spanish.  The only items from my collections that came with me to college were the 46" Stuffed Mouse and the King of the Fuzzy Bugs.


Carroll had a strong Greek life.  There were four fraternities and four sororities. As a freshman, I pledged Chi Omega sorority.  Being in a sorority was a great experience.  At any one time we had between 25-30 sisters.  Each sorority had a mascot and the mascot of Chi Omega is an owl.  Time to collect owls.


Many times, your Greek "big sister" or "little sister" would give you owls for special sorority occasions.   This resulted in having eight to ten owls.  However, once again, a gift from my father furthered my collecting.  He found 200 promotional fuzzy bugs, that looked like owls, at a rummage sale.  The owls had a tan bottom half and a brown top.  They had taupe plastic owl faces glued to the brown half of the pompon and the jiggly eyes were glued to the face.


I cut the owl's promotional tags off with a pair of scissors.  After I gave one to each of my sorority sisters, I still had approximately 175 left over.  I wanted to display the owls, showing my support for being a Chi Omega.  I threaded a needle with 6" of white thread and knotted the end with a large knot.  I poked the needle through the bottom centers of the owl's feet and ran the thread through the top of the pompon.  Then I tied the loose end around a push tack and tacked all 175 to my dorm room ceiling.  They were all about 5-6" apart from one another and swung when someone opened the door from the breeze.  At the end of the school year, I carefully removed each owl from the ceiling and wrapped the thread around a piece of cardboard so they would not get tangled.  The following year I put them back up on my dorm room's ceiling.  If someone was laying on my floor looking up at the ceiling and had had too much to drink (not me of course) they could get a little nauseous from the swaying movement.


My sophomore year I started dating, Gary, the love of my life and best friend who would go on to be my husband.  He saw the owls firsthand.  This should have been a sign that he was going to marry a collector.  He was doomed with my "condition" from the beginning.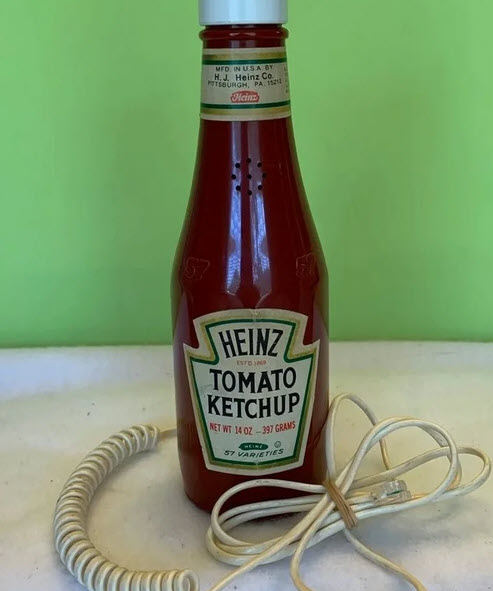 The Ketchup Bottle Phone
Back in 1984, our local paper, the Milwaukee Journal, included on Sundays a small group of coupons and ads.  They were usually 8.5" x 11", glossy color stock and featured some local grocery coupons and some manufacturer's coupons.  Why I was looking through the coupons I do not know since I was not the person who shopped in the house.  That was the job of my mother.  On occasion, the coupons would include offers for items you could purchase by sending UPCs and a check to a company.  

On this fateful day in Mequon, probably in August of 1984, there was an offer in the coupons to send away for a corded telephone in the shape of a Heinz Ketchup bottle.   I did not like ketchup but I thought the phone was so cool!  The offer had a form to fill out with your mailing information and you needed to include a check for either $12.95, $11.95 or $10.95 depending on if you also sent in one, two or three Heinz Ketchup bottle neck labels.   Believe it or not those amounts included the price of the phone and shipping.  I am relatively sure, although cannot confirm, that I sent in three labels.  My father ate a lot of ketchup.


When the phone arrived, I couldn't believe how much it looked like a 14oz bottle of Heinz.  The phone body was red hard plastic with a Tomato Ketchup label.  It had a white cap and curly phone cord to plug into the wall phone jack.  On the bottom of the bottle were square touch-tone, pulse push buttons and the hang-up tab.  You would pick up the phone, dial and then talk into a little speaker at the bottom of the label.  It looked so amazingly real that several people grabbed it and attempted to put it in the refrigerator when cleaning up after dinner.


Fast forward four years to 1988.  I am happily and delightfully married to Gary and we own a 900 sq foot house on 84th Street in Milwaukee.  I have my first job out of college and work for Milwaukee Insurance in their marketing department.  The office was located in downtown Milwaukee at 6th and Wisconsin Avenue about 30 minutes from the house.  The house was too far away to go home for lunch so I would walk around downtown during lunchtime and window shop.  As luck would have it on the next street from the office was a novelty telephone store – Ding-a-Ling Discount Telephones.  Several times a week I would visit Ding-a-Ling and peruse the store evaluating which phone I might buy next or save up money to buy.  

I bought a hamburger phone, which went very nicely with the ketchup bottle phone.  Also, a hotdog, a pickle and a banana phone.  I added a toucan bird, a musical pack of cigarettes and a phone made of Legos to the collection.  In total, by the time I stopped collecting phones, I had amassed 63 different phones.  My husband, God bless him, wired our house with phone jacks to plug them all in.   There was one phone, however, that I could not keep plugged in.  It was a 1960s payphone retired from a New York subway.  It had a mechanical ringer and drew so much of the phone power, none of the phones could get enough power to ring. 


By now I had been shopping at Ding-a-Ling for about six months.  When I stopped in the store the very first time, they were selling a Winnie-the-Pooh phone.  I remember thinking to myself, "Hey, I liked Winnie-the-Pooh a lot as a kid."  The phone was the same design and manufactured by the same company that produced my Snoopy phone.  It had a faux brown wood base with a red top.  It was a 14" tall, push-button phone with white square buttons and black numbers.  Pooh was on top of the red base with his right arm holding the brown handset and his left arm stretched out holding a blue rubber butterfly. 


One day I went into the store and the Pooh phone was gone!  Someone bought Pooh.
Now that you have read Chapter 2 of How It All Began, if you'd like to read more, visit my bookshelf on Amazon.com -- thank you for your support!