Winnie the Pooh fanatic extends collection to unbelievable 23,600 items
By Vicki Newman | Published 23 June 2023
Read the article on GuinnessWorldRecords.com
Deb Hoffmann is Winnie the Pooh mad!
She's loved the fictional bear and his friends – created by writer A.A. Milne – ever since she was a little girl.
Little did she know when her father presented her with her first ever Pooh Bear at the age of two, that she'd one day have more than 23,000 items dedicated to him and the other residents of Hundred Acre Wood like Eeyore, Tigger and Piglet.
But believe it or not, it all happened by accident.
Deb, from the USA, has held the record for the largest collection of Winnie the Pooh memorabilia for the last 15 years.
It was first verified in 2008 with 3,891 items and continued to grow and grow, with her checking in every year or so to update us on her numbers.
As of February this year, her collection stood at a whopping 23,623! But it's possible she's got her hands on even more in the months since.
"When it started, I never thought it would get this large," Deb confessed.


Deb was first introduced to Pooh at the age of two, when her father gave her a teddy bear.
She said: "My father worked second shift and so he would come home around 10 in the evening. I knew when he was coming home, apparently, and so I would always get up and tell my mom I had to go potty so I'd be up to see him. 
"He brought home a box and it was pink and blue, I can see it like it was yesterday.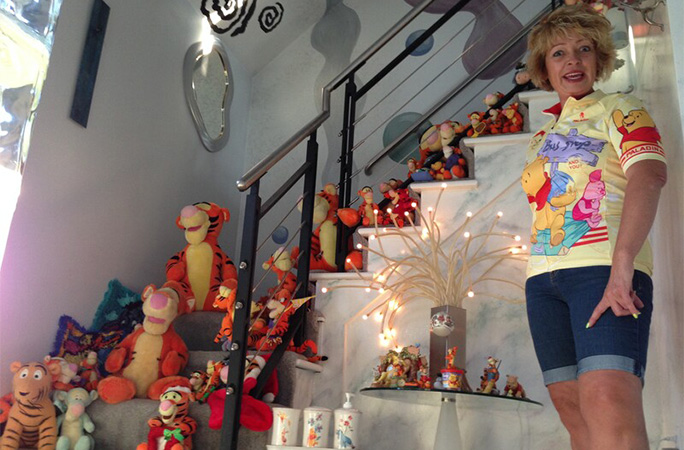 "As I was going to put my hand into the box he went 'grr'. And so, I got really scared of what was in the box. He pulled out the plush Winnie the Pooh, and he gave it to me. And, well, the rest is history."
Deb, who runs her own website mostpooh.com, still has that bear, although he's seen better days.
"He was so tattered even when I was little that my mom had to sew a separate fur skin for him, so it's kind of like a Pooh within a Pooh, but it's tattered again," Deb said.
"I had a habit of sleeping on him when I was little so he's kind of squished, and you wouldn't recognize him without his red shirt on, but I love him and he's still with us."
Deb took that little bear with her everywhere she went and recalls how he was once almost lost when she accidentally left him in a shopping cart.
Her mom managed to retrieve him thankfully, but Deb jokes her life today would probably be very different had she lost him and moved on to a different soft toy.

As she got older, like most children, Deb grew out of her teddy bears, but still held on to the eight or so Pooh Bears she had.
Her collecting journey actually began with novelty telephones when she was 22 and married to husband Gary.
Deb had phones shaped like ketchup bottles, pickles, and hamburgers, and luckily for her, she worked right across the street from a novelty phone shop.
One day, she walked in there and saw a Winnie the Pooh phone, which brought back happy childhood memories.
But it wasn't until six months later when the phone was gone that she suddenly felt like she just HAD to have it.
In the days before eBay and Craig's List, Deb put adverts in newspapers in a bid to track it down, and finally got a response from someone across the country who told her to meet him in a car park at night with $80.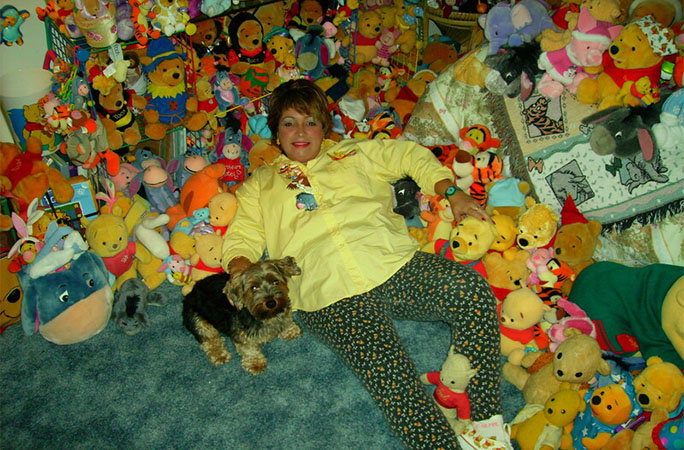 Her brother-in-law, a priest named Father Chris, offered to go for her.
"He handed him the phone in a paper bag so we think it was probably hot," Deb laughed. "It was probably stolen merchandise, he just handed him the phone and sped off."
Part of the phone, a butterfly, was missing, so now Deb was tasked with hunting that down too.
That same year, Hallmark released a new set of Winnie the Pooh ornaments, and Deb found herself desperate to have them.
She managed to find three of the six in the store, and another treasure hunt ensued to find the remaining three.
Deb says she learned her lesson after that, and any time she saw something she didn't have yet, she'd get it there and then just in case she couldn't find it down the line.
And thus, her record-breaking collection was born.
"Before I knew it, I was collecting Winnie the Pooh again, it kind of just happened by accident," Deb said.
Now, she houses the majority of her collection in a room in the 1,000 sq ft building that Gary, who she shares pet Yorkiepoo Cisco with, built in their backyard as a premise for their software and website development company.
Deb has been supported in her endeavour by her husband, who often goes hunting around different stores with her to find new items.


"I always say he's the best part of my collection," she sweetly confessed.
As well as the bear that started it all, a Winnie the Pooh costume is one of Deb's favourite items.

There have been many Pooh costumes over the years, with characters in Disneyland and other places, but it was the 1980s version that had been used in the Sears department store children's department that she had her heart set on.
It took her nine years to finally get her hands on it but once she did, she also fulfilled her dream of playing Winnie the Pooh at Sears.
The costume is also Deb's most valuable item. It was so expensive that even though she'd wanted it for nine years, she took a minute to think it over before realizing she had to go for it.
Deb says that her collection is constantly growing as about once a month, other collectors who are ready to leave their items behind will pass them on to her.


"It's just crazy how many people have reached out to me to donate things," Deb said.
Deb says the reason most often is that people are downsizing and don't have room for their collections anymore.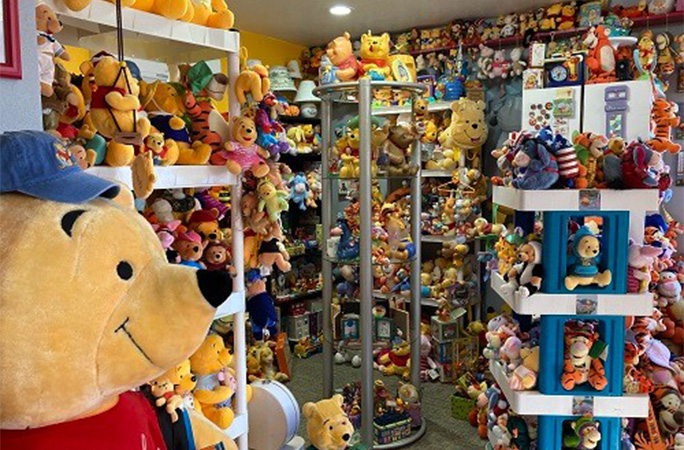 But when giving them up, they'd much rather pass the stuff on to Deb – someone who will truly appreciate the items, and as she says, "keep their memories safe for them too".
As every item in her collection has to be unique, Deb will go through the things to search for duplicates.
If there are duplicates, Deb will replace the one she already has with the item donated to her, and donate or sell the older one.
But with more than 23,000 unique items in her collection, Deb had to come up with a good system to catalogue everything.
She explained: "I'm very lucky to be married to a software developer, so he actually created a database for me and an app, and so I can go on my phone and type in 'Pooh plush' and the manufacturer and because I add specifics into the descriptions when I upload them, the app will come back with pictures and I can see whether I have it or not."
On why Pooh is her favourite character, Deb said: "I love the fact that he's just simple, you know he's not the smartest but he's the most loving. He's always going out of his way for his friends, he's just not pretentious and man, I just wish the whole world were like that."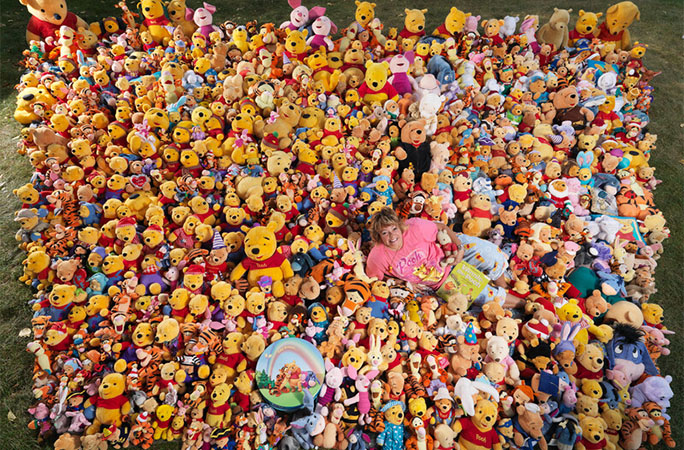 Deb's collection has become so much more than just having the items, she says she's collecting memories.
She decided to share the story of all the amazing things she's done by writing her own book, How It All Began: How Collecting Items Became Collecting Experiences, which is on sale now.
She said: "I always say it's book one because I'm sure there are many more adventures to come.
"I was shocked at the impression people had, that it was like an inspiration to them to follow their hearts, follow their goals and not worry about what other people think – just have fun doing it.
"Hopefully the message that I give to people in the book is that when you set your mind to something and you go with it and have fun, who knows where it's going to take you.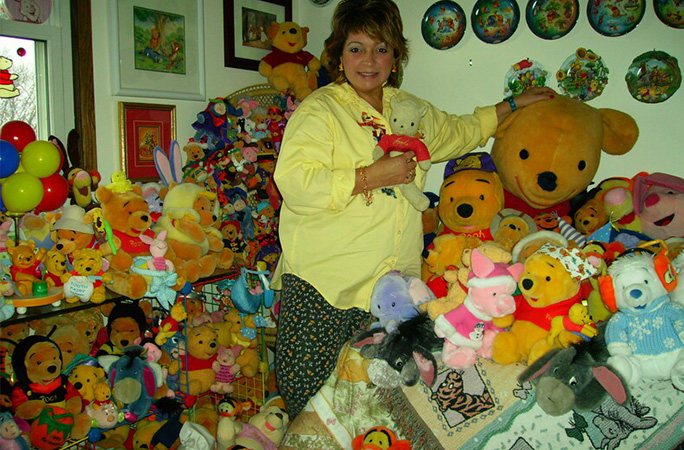 While Deb is constantly inundated with nice messages from fellow fans who reach out through her website, she does have to deal with negativity from time to time.
She told us: "There have been plenty of people along the way that say things like 'why do you do this? And why do you collect toys? And isn't that too much? And what are you gonna do with these? And you know, isn't this too much money?'
"And so you have a faction of those people that say that. And then there's the other people that are like, 'have fun with it', you know, 'do the best that you can do and the most that you can'.
"I often say to Gary, I don't know what I'd be doing if I weren't doing this.
"It has been so such a part of our lives and we've just done things that we wouldn't have done if not for being the collector and being in the book."
One of Deb's favourite experiences was how she helped a man propose to his girlfriend.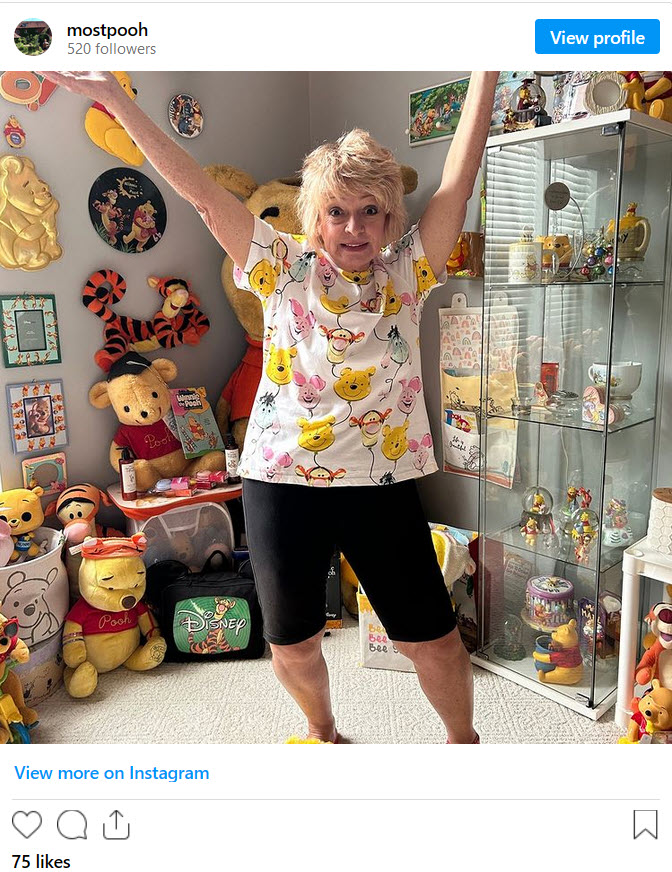 He had found pictures of her with an old Winnie the Pooh she often talked about from her childhood, and he asked Deb to help him track it down.
"I actually had an extra one," she said. "So, I was able to send it to him and that's how he asked her to marry him. He actually had the ring with the Winnie the Pooh and he gave them both to her."
Deb says one of the questions people ask her most frequently is what's going to happen to her collection when she's gone.
She explained that when she goes to "the big honeypot in the sky" she'll be donating the entire collection to a museum in Canada to honour the character's roots.
Milne's character was based on a real-life bear who lived in London Zoo, who got there thanks to Canadian soldier Harry Colebourn.