Winter Haven Resident's Winnie the Pooh Collection Holds Guinness World Record
Winnie the Pooh collection
Deb Hoffmann's record-breaking Winnie the Pooh collection is split between her Winter Haven and Wisconsin
residences. These items are at her Florida home. (Courtesy Deb Hoffmann / Courtesy photo)
It all started with a silly old bear.

Winter Haven resident Deb Hoffmann received a Winnie the Pooh stuffed animal from her parents when she was 2 years old. It went everywhere with her.
This is the first Winnie the Pooh stuffed animal Winter Haven resident Deb Hoffmann received from her parents
when she was 2 years old. (Courtesy Deb Hoffmann / Courtesy photo)
"I loved Winnie the Pooh as a kid, and maybe I had eight different stuffies back then," she said.

Now, the 56-year-old has the largest collection of Pooh and Friends memorabilia in the world, a Guinness World Record she's held since 2008. Hoffmann's more than 20,000 Winnie the Pooh items are divided between her Florida and Waukesha, Wisconsin, residences. And she's considering buying another home to house her keepsakes.


Deb Hoffmann's record-breaking Winnie the Pooh collection is split between her Winter Haven and
Wisconsin residences. These items are at her Florida home. (Courtesy Deb Hoffmann / Courtesy photo)
When she was in her 20s, Hoffmann began collecting novelty telephones shaped like hamburgers, hotdogs and more.

"I think collecting is like in my DNA, so I think I was doomed from the beginning," said the website designer for TechAnalysts, a company Hoffmann owns with her husband, Gary.

She came across a Winnie the Pooh phone in a store she frequented. An item she passed up on multiple occasions, it sold six months later. Hoffmann was consumed with finding it and placed ads seeking the phone in newspapers across the country.

Someone responded, and Hoffmann got the phone — but it was missing the butterfly. And so, a new hunt began. As she searched, Hoffmann discovered Hallmark released a set of six Winnie the Pooh ornaments. A natural collector, she acquired all of them.

"I kind of like got sucked in, and before I knew it, I'm like, 'Oh, look at that. There's a Pooh. I better get it right away!'" she recalled. "I ended up having a bunch of them and more than I even realized."


Winter Haven resident Deb Hoffmann holds the Guinness World Record for the largest Winnie the Pooh
collection, which now consists of more than 20,000 items. (Courtesy Guinness World Records / Courtesy photo)
 
One day, a friend remarked that Hoffmann's mass of Winnie the Pooh stuffed animals, clothes, kitchenware and more was probably the largest in the world. Curious, Hoffmann applied to Guinness World Records and documented 3,891 unique pieces, as duplicates do not count toward the total. A GWR certificate provided proof of her passion and a new world record.

Since then, Hoffmann's collection continues to grow.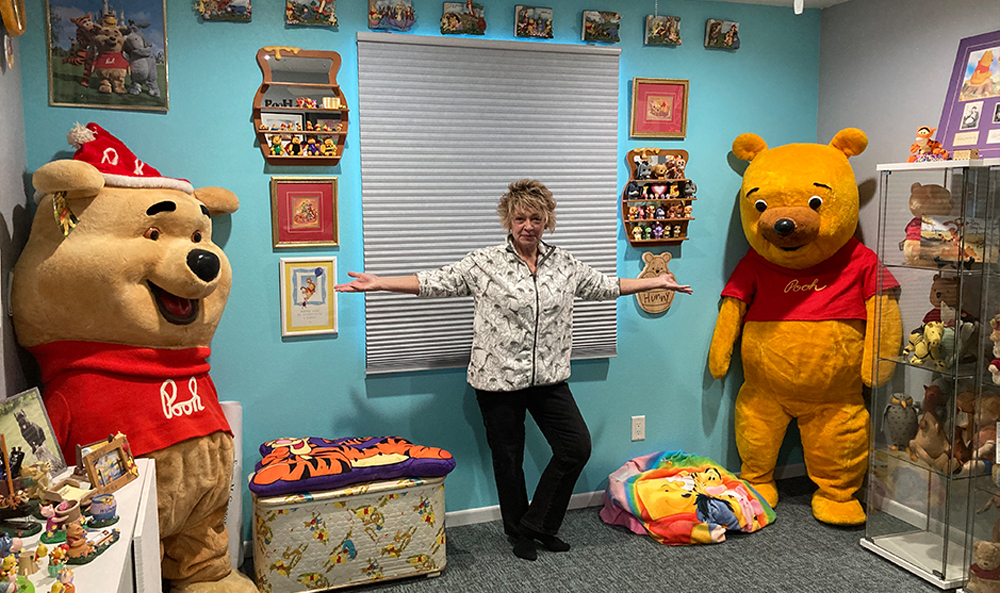 Winter Haven resident Deb Hoffmann owns the Winnie the Pooh costume used at Disney parks in the
1960s and 1970s (left) as well as one used in Sears during the 1970s and 1980s (right).
(Courtesy Deb Hoffmann / Courtesy photo)


Many of her items come from downsizing collectors who don't want the keepsakes to end up at thrift shops. The 20,000th piece (which she acquired on Dec. 20, 2020) eluded her for nine years: a Winnie the Pooh costume from the 1970s and 1980s that was used at Disney parks and Sears. Her collection also includes a Winnie the Pooh costume used in the 1960s and 1970s at Disney parks.

Now Hoffmann looks forward to displaying film-used props.

Hoffmann allows others to peruse her memorabilia. A recent visitor spent hours marveling over her displays.

"It was fun to see my collection through his eyes," she said, noting she also utilizes her expertise as the "Pooh Lady" to assist others daily with queries. Sometimes it's a question about authenticity, other times it's a parent seeking a toy.

"It's so gratifying when I can connect a mom with a source to go replace that Winnie the Pooh for their kid," she said. "I love doing that."
 
"I would love to find anything that was used in a Disney production as a prop," she said. "That would be like the cherry on the top."
Winter Haven resident Deb Hoffmann (center, back) visits The Crystal Palace at Magic Kingdom.
(Courtesy Deb Hoffmann / Courtesy photo)

Hoffmann's passion for Pooh extends beyond her amassed keepsakes. She once visited A. A. Milne's estate in southern England and estimates she has made 70-80 Walt Disney World trips, where she's ridden The Many Adventures of Winnie the Pooh attraction at least 100 times.

Hoffmann credits her attraction to the Hundred Acre Wood pals with a desire for something simple, positive and drama-free.

These days, there's so much negativity," she said. "When you look at the Winnie the Pooh stories, it's always about the characters helping one another out. There's some type of an issue, everybody comes together, and by the end of that story, things are positive again.

"When I look at the collection … it's just simple. It's just nice. There's no drama here."

For more information about Hoffmann and her collection, go to mostpooh.com.