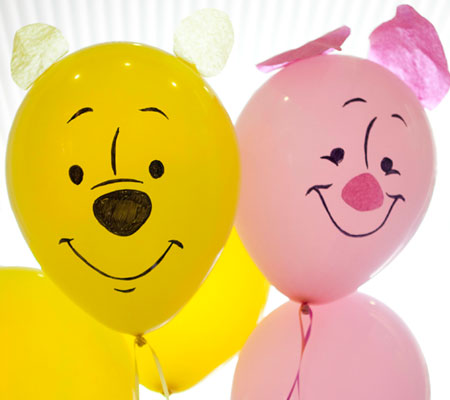 Pooh & Piglet Party Balloons
By Miranda Becker from DisneyBaby.com
Make your next Pooh Party extra special with a visit from their Hundred Acre Woods friends. Turn an ordinary bunch of helium balloons into a crowd of your favorite Pooh pals. Place Pooh and Piglet balloons at the door to greet your arriving guests.
You'll need:
Helium filled latex balloons: Pink and Yellow 
Tissue paper: Dark Pink, Yellow
Double sided tape
Black permanent marker
Scissors
Instructions:
Print the templates and cut them out. Trace the Piglet template onto Pink tissue paper and the Pooh template onto the yellow tissue paper. Cut out the tissue paper ears and snip along the dotted lines creating two tabs.
On each ear, fold one tab over the other and secure it with a piece of double sided tape creating a small flat surface. The flat surface will be taped to the balloons creating the ears.
Use the double-sided tape to attach the ears to the top of the balloons. To make Piglets ears stand put a crease lengthwise through the center.
Fasten Piglet's snout to the balloon using double-sided tape. Remember, Piglet has a long chin, place the snout a bit closer to the top of the balloon.
Now draw Pooh and Piglet's faces onto the balloons using a black permanent marker. There is a printable template to use as a guide of each character's features.
*Note: Balloons should be styled the day of the party, helium balloons will usually deflate within 24 hours.