The Facts of Life star Lisa Whelchel Explores Hidden Treasures on Collector's Call
By 
Lisa Whelchel, for the majority of us, will always hold a special place in our hearts as Blair Warner from Eastland School for Young Women in the hit series The Facts of Life. Now that her sitcom is celebrating its 40th Anniversary it brings back even more sweet memories of her family-friendly shenanigans.


Adding to her appeal, her admirers will soon be able to watch Whelchel in a whole new television genre in Collector's Call, a new MeTV original series in which she introduces viewers to some of the biggest collectors of pop culture memorabilia in the country.
These passionate people have amassed astonishing collections covering everything from presidential artifacts to rare books, The Wizard of Oz and Coca-Cola paraphernalia and much more. The 13-episode unscripted series airs Sundays on MeTV. A three-hour marathon of her favorite episodes of The Facts of Life also recently aired on MeTV.
Among the treasured items are first edition Harry Potter books with personal notes from author J.K. Rowling, a handmade toy by Wizard of Oz author L. Frank Baum, and an original telephone used on The Dick Van Dyke Show. Viewers will explore these unique collections, going inside the custom displays, secret rooms and even entire second homes, all devoted to housing these treasured—and rarely seen—items.
While touring these extensive collections and learning about the history of the collectors' fascination with their chosen items, Whelchel enlists the help of professional appraisers and experts to put an estimated value on what these items are worth.
With the value established, the experts will try to tempt the collectors with a trade, offering a coveted item that will be the perfect addition to their collections.
These collectors must make an agonizing choice and decide how sentimental they are about their existing pieces… or how much they are willing to give up for a new addition to their collection. Will they make a trade? It's the Collector's Call.


"What I've discovered is that these are all such interesting people. I enjoy hearing people's stories and why collecting is so important to them. There's always something that got them started and it's usually really heartfelt," Whelchel explained exclusively to Parade.com. "It's really an uplifting show. It's about the hunt and it's about finding it. It's also about getting the bargain. It's about what all of this means to them."


What are you enjoying about your new show?
There's so much I'm enjoying about the show, especially meeting these collectors, I don't know why I didn't anticipate this, but somebody that passionate about collecting one thing, is probably going to be quite a character. What I'm learning is that there is so much to discover about the different subcultures.


For example?
One guy was collecting KISS memorabilia. Well, I certainly remember KISS, but I really wasn't that into rock 'n' roll when they were popular. But now just listening to his passion and as he showed us everything, I suddenly go, "My, gosh. I didn't respect these guys the way they deserved." The same thing happened with the firefighter relics, and certainly with the rare books and presidential artifacts. I'm learning a lot and being a lifelong learner, that's my primary motivation every day.


How difficult is it for these people to trade in something that's a prized item for something that you brought that's also a prized item that they clearly want?
That's been really fun to watch, because sometimes they will surprise me.  I'll say, "There's no way they're going to trade for that," and then they do. Or I'll say, "Wow, that's a special item, I think they will trade," and they don't. So, I think it's really difficult for them, because every single item in their collection, even if it's like the Winnie the Pooh collector who has tens of thousands of items, I can see that everything is meaningful. Nobody is collecting something just to add it to their collection. It's about what makes it special. So, I think every single time they have to give up something, it's difficult for them to let go of. But then you can tell when they get that elusive item they've been looking for and suddenly it appears; it really does whet their appetite.


I have to know, do you collect anything?
My aunt, who I am really close to, is an antique dealer. So, many years ago we were traveling a lot. My aunt, Madeline, mom, Genny, and grandmother, who I affectionately called Nanny, were my travel buddies and so anytime we went somewhere, she would buy things. So, she helped me start a doll collection and also an antique bear collection. But I've moved five times in the last five years and with each move the collections became less meaningful to move with me. I also didn't want to pay for the storage. So, I have culled it down to a handful of items that are especially meaningful to me.


Do you have any favorite collectibles?
A few years ago, I had the chance to buy my Mouseketeer ears. I was on the Mickey Mouse Club in the 1970s and the pink ears that I wore on the Monday shows came up for auction on eBay and that was definitely something that was worth investing in and collecting. So, I did collect that. I certainly have added to the collection that my grandmother started for me of Mickey Mouse Club memorabilia.


I understand that your Nanny was a big part of your career early on.
Yes. I called her Nanny and many of my fans know her as Nanny, and that's because she was president of my fan club when I was on the Mickey Mouse Club and The Facts of Life. So, when anybody wrote to me during those years, the studios would send them in boxes to her and she would handwrite a letter on my behalf to every person who wrote to me. And then many times they would stop writing to me and just write to her as the grandmother they didn't have. She really impacted many young people's lives.
What are some of the things about The Facts of Life that really changed you and changed the course of your life?
So, off the top of my head, it was certainly an incredible experience. I wanted to be an actress since I was 8 years old, and I saw a child actress on The Wonderful World of Disney and I said to my mom, "That's what I want to do and I don't want to wait until I grow up." So, just the opportunity to live my dream was amazing, first with Mickey Mouse Club, and ultimately with The Facts of Life.
Tell me about working on the show.
It was such a fun experience for me as a teenager. I loved the girls. We got to film our show in Paris and in Australia and had the opportunity to meet so many wonderful people. It continues to be life changing, maybe because of the popularity of the show throughout the decades. Whether it's coming back on the Nickelodeon channel, doing a reunion movie or then coming back on MeTV, we have entire new audiences coming around.
That must be extremely gratifying.
Yes, and it opens up even more opportunities for me. When I started writing books, (more than a dozen to date), I had this built-in platform of young moms who had been teenagers when I was a teen. Eventually, I wrote a book about friendship for grownups and how difficult it is in mid-life to make female friendships. Now, I'm a life coach and so many of the men and the women who reach out to me, are going through this kind of mid-life re-evaluation, asking, "Is this all there is?"  "Am I living my highest potential?"  And, so it continues to provide me with a platform of opportunities that I'm grateful for every year.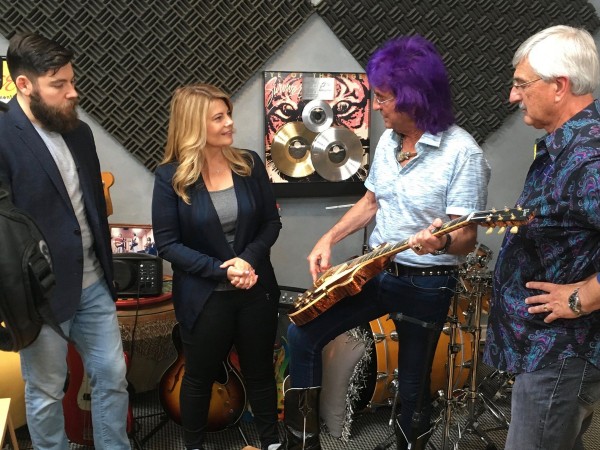 Why should people watch the new show, Collector's Call?
I think that it's heartwarming. I think that it will bring back memories of their own lives, something that brings us back to the good old days. It appears that this is something that we're all starving for and it lifts us up, it's inspiring and we have a smile on our faces when we turn the show off.
What was the one item or one collector, where you were like, "I can't imagine where all this came from."
Definitely the Winnie the Pooh collector. She and her husband live alone in a two-story, five-bedroom house and she started by filling up all the bedrooms upstairs. When she outgrew that house instead of paring down they bought the house next-door and filled up that house with more Winnie the Pooh collectibles. So, I would have to say that that's the one that was just, "Wow!"
It's interesting what kind of items would pique somebody's interest. 
True. I met a collector and part of his house is all this incredible classic TV memorabilia. He has the original telephones that were used on The Dick Van Dyke Show. He has the one that was used on The Lucille Ball show and another one from The Andy Griffith Show. And then in another room he has presidential memorabilia including locks of hair from Presidents George Washington, Abraham Lincoln and John F. Kennedy. So, looking at these items I was like, "Wow, I didn't even know you could collect locks of hair from presidents."
Do you have separate fans from The Facts of Life, and your books or is it all kind of one big, happy group?
The big umbrella is The Facts of Life for sure. I think that a lot of young people who grew up on the show – and even the generations that have discovered it later – have such a sweet connection with it.
What kind of mother are you?
Well, I guess you have to ask my kids about that; but I was going through some papers and I had a big stack including birthday, and Mother's Day cards, and I sat down to read them. This gratitude for these human beings just washed over me, that I get to be their mother and now I get to experience them as adults. I love them with all of my heart and respect them so much. I'm just so grateful that they feel the same way about me.
What was the one piece of advice that really helped you through work and personal stuff that you have passed onto your kids? 
I don't know that this is necessarily unique, but it's certainly powerful. It is something my mom, Genny, gave to me and my brothers and I think that it has been passed onto my kids and it's had a major impact on us. My mom really made me believe that I could do anything and that I was the best at everything. I remembered going through heartbreaks as a teenager with boys and she was like, "That's their loss. They're not smart enough to know that they're going to regret it later."
That is certainly nurturing.
Oh, yes, and if I didn't get a role it was always, "Well, there's something more worthy of you later on." So, I just don't think you can undervalue the empowerment that a mom, or a father, can give, to make us really believe that we can not only go after our dreams but that we can actually catch them.


Collector's Call,  MeTV's new original series, airs on Sundays at 10 p.m. ET.