Video: Fan's visit to 'land of Winnie the Pooh' dream come true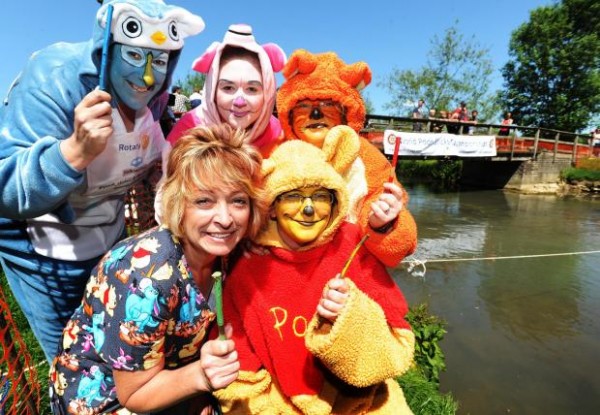 Rotary Club members, back from left, Debs Axtell, Hollie Wise & Naomi Barnes;
front, Deb Hoffmann from Wisconsin and and Pippa Wheeler
TWO women from different sides of the Atlantic were yesterday brought together by a lifelong goal at Witney's first World Poohsticks Championships.
Among the hundreds of people who descended on a little footbridge over the River Windrush for this year's competition were Deb Hoffman of Wisconsin, USA, and Margaret Grayston of Witney.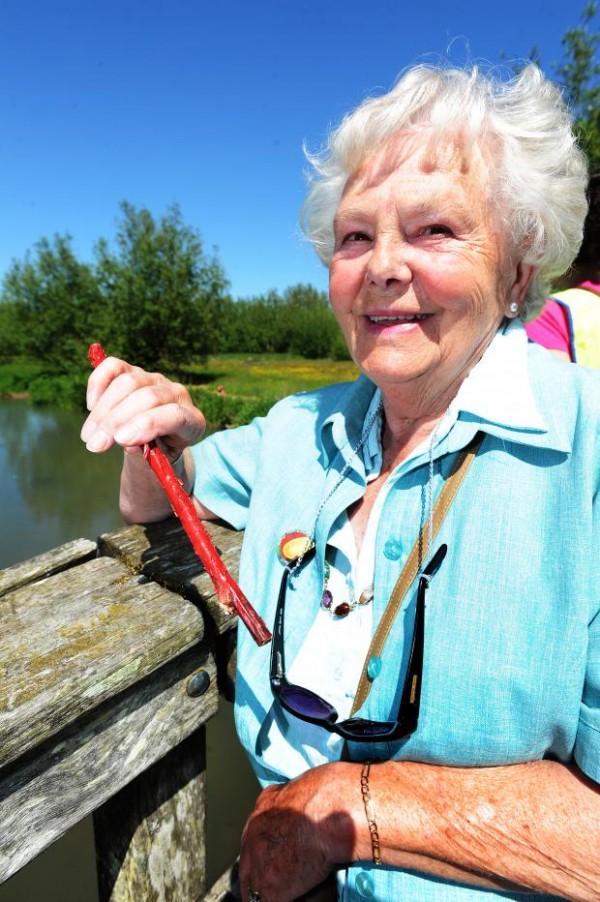 Mrs Hoffman, 50, holds the Guinness World Record for the world's largest collection of Winnie the Pooh memorabilia, but in the 31 years the world championships were held at Day's Lock on the Thames in Little Wittenham she had never been.


When she heard the event had been moved to Witney for the first time, she made the decision to cross the Atlantic and achieve a lifelong dream.


And the last time Mrs Grayston had played the game, it was as a 10-year-old evacuee during the Second World War, when she joined in on the original bridge in the Ashdown Forest where Winnie the Pooh author AA Milne invented the game with his son Christopher Robin.


Yesterday, the two women met for the first time on the bridge at Langel Common, having only seen each other's faces in the Oxford Mail.


Mrs Hoffman, visiting England for the first time with husband Gary, said the event was "more amazing" than she ever could have hoped.


She said: "It has been on my bucket list forever, and it is so surreal to be here. It's like being transported to the land of Winnie the Pooh."


Mrs Grayston, 82, said she thought Mrs Hoffman was "terrific".


The mother-of-two said: "You could have imagined she was going to be bonkers, but she was so nice and down-to-earth."


Mrs Hoffman won her first game, but fell at the second round, while Mrs Grayston came third in her first game.


Both said that they were just happy to have played.

The championship action
An estimated 600 people took part in the championships yesterday, seven at a time, dropping coloured sticks off one side of the bridge and "racing" them to the other side where two volunteers in a canoe were ready to catch them.


The event was organised by the Rotary Club of Oxford Spires, with the help of COMPETING: Above, Rotary Club members, back from left, Debs Axtell, Hollie Wise and Naomi Barnes; front, Deb Hoffmann from Wisconsin and and Pippa Wheeler; far left, the championship action; left, Margaret Grayston of Witney

Pictures: Jon Lewis Pete Hughes phughes@nqo.com POOHSTICKS: Championship brings together women from both sides of the Atlantic Witney Rotary Club and Witney's Cogges Manor Farm.


Competitors paid £2 to enter which will be donated to good causes.


The event was moved from Day's Lock because organisers said they had outgrown the space.


The added bonus of moving the event to another river was that they could hold it in the summer.

First published Monday 8 June 2015
by Pete Hughes - Reporter covering Abingdon and Wantage, South Oxford and Kennington.
Call me on 01865 425431