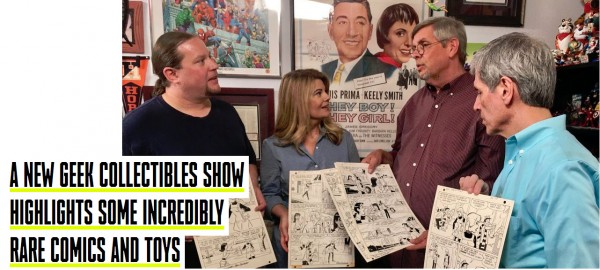 Back in the 1970s, cartoonist and designer Jim Engel used to set up at table at comic conventions in Chicago to draw and sell caricatures of attendees. He'd then take his earnings and wander the aisles to see how fast that money might burn a hole through his pocket. That routine ultimately led to an impressive collection of comic book art, figurines and other pop culture memorabilia, including many items that have skyrocketed in value.


Engel is one of the enthusiasts featured on the new series Collector's Call, premiering Sunday, April 7 on the nostalgia-themed network MeTV. The show celebrates a wide variety of collections, ranging from political memorabilia to rare books, toys and Hollywood props.


"If you know our programming you know that it is nostalgia-based," executive producer Mike Schmiedeler says of the channel, aka Memorable Entertainment Television, which has earned a cult following thanks to repeats of classics like Wonder Woman, The Twilight Zone, Buck Rogers in the 25th Century and the original Star Trek. "One thing that we thought would certainly appeal to our viewers is memorabilia, because they are very passionate about the programs we air, so it seemed like a natural fit to celebrate that memorabilia that surrounds it."


In each of the 13 episodes, an appraiser or expert in the specific field will assess the collection and, to give the show a unique twist, they will also make an offer to trade something from their own stash for one of the featured items. It will then be the collector's "call" (hence the title of the show) whether to accept the trade. Lisa Whelchel, best known as Blair Warner from the The Facts of Life (a show that is also on MeTV's slate), is the amiable host, helping illuminate the memorabilia and add context for viewers.


"For these collectors, they love what they have, but what they love even more is the hunt," Schmiedeler says. "They love the extremes they had to go through to get the stuff." In scouting for the series, he and his team obviously looked for the size, scope and value of collections, but just as important was each individual's enthusiasm. "What makes a good collector," he says, "is somebody who is absolutely passionate about their collection and loves showing it off and telling the story of how they got it and what's behind each piece."


Engel's own stockpile includes original artwork from Marvel and Archie Comics, as well as countless toys, figurines, and assorted geeky pop culture swag. Much of his massive collection is kept in his office, where it helps inspire his work designing toys for fast food chains' kids meals and cereal box prizes. "I always tell people when they come here and look at my stuff that this is the bedroom I gave up when I got married," he says with a laugh.


His prized possession is the original pencil artwork for John Buscema's cover to The Avengers No. 53 from 1968. This issue featured the second part of the first-ever crossover between the Avengers and the X-Men, Engel's favorite comics as a child. (The story began in The X-Men No. 45.) "John Buscema is my favorite superhero artist," he says of the prolific Marvel penciller, who passed away in 2002. "Buscema is the guy who I would compare to Alex Ross contemporarily, somebody who took superheroes and made them seem like they actually were real people in real costumes, not highly stylized."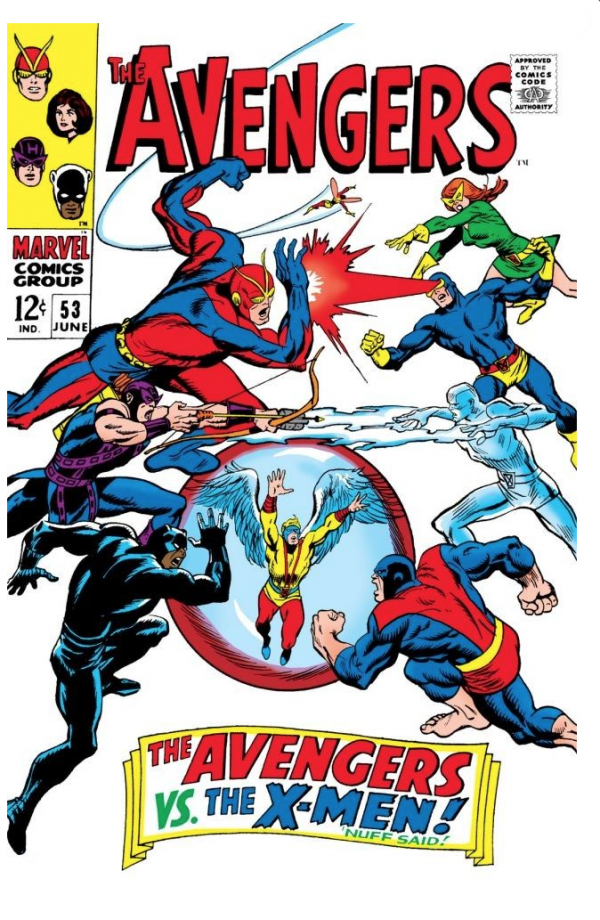 Engel stumbled on the cover at dealer's booth at a convention on one of his breaks from caricaturing and he initially hesitated on making the purchase. "I believe I paid $60 for it, and $60 in the late '70s was not easy to part with for me," he says. On top of that, the art features white out marks and signs of corrections that were made during the production process. "You have to realize that all this stuff was commerce, it wasn't art. Nobody cared what the originals looked like as long as they could be reproduced."
Ultimately he decided it was too good of a find to pass up. And he's not regretting it. On his episode of Collector's Call (which airs May 19), appraiser Josh Kelly of Graham Crackers Comics in Chicago believes the art could now be worth thousands of dollars. (Engel says another respected collector valued it at a staggering $80,000 to $100,000.)
Other featured items include original art of a page from Marvel's Journey Into Mystery Annual No. 1, drawn by the iconic Jack Kirby in 1965. "I was on a quest to get an example of all my favorite Marvel artists, and I succeeded pretty well," says Engel, who recalls paying only $5 or $10 for the piece, which features Thor tangling with Hercules. Kelly thinks it might now be worth somewhere in the $60,000 to $80,000 range.
Another prized possession is the art from a six-page story that ran in Archie Comics' Betty & Veronica Spectacular in 1969. "My interest in that specifically was Dan DeCarlo, who is pretty much regarded as the best Archie artist of all time," says Engel, whose own cartooning style was influenced in part by the artist. "I loved the look of it. It seemed very contemporary to me. Jughead is one of my favorite comic book characters of all time, and in that particular story he plays a role helping Betty thwart Veronica. It's a story I remember very well."
Other episodes of Collector's Call will spotlight a Winnie the Pooh aficionado whose collection is so big it's spread across two houses, and a TV nostalgia lot that includes a massive selection of items from the 1960s Captain Action toy line and an original piece of prop art created for a museum scene in the 1960s Batman TV series. "We also have a video games episode and it was pretty fascinating," Schmiedeler teases. "Our collector [Sean Kelly, founder of the National Videogame Museum in Frisco, Texas] had a prototype of the Sega Neptune that was never released, that they had insured for like $250,000 that he's never even plugged in before. He had a prototype Barbie branded Game Boy that was never released."
The show's collectors are passionate and industrious, but they also experience a little serendipity from time to time. Engel knows full well that he lucked into having such a valuable collection. "I would never spend the kind of money that it would cost to get any of those things now," he says. "I can't really say I ever bought anything because I thought it would be worth money later. I only bought things because they had a significance to me."

Collector's Call premieres Sunday, April 7 at 10 pm/ET on MeTV.