How the new 'Christopher Robin' movie is giving this record-setting Winnie the Pooh collector another chance to connect with fans
link to the full article by Jim Riccioli-Milwaukee Journal Sentinel
Jim Riccioli, Milwaukee Journal Sentinel
VERNON - For Deb Hoffmann, it was no bother at all sorting through her record-setting Winnie the Pooh collection, given the moment at hand.
The town of Vernon woman couldn't let a major milestone in Winnie the Pooh history — the Aug. 3 release of "Christopher Robin," starring Ewan McGregor in the title role — slip by without some personal involvement and connection with other fans.
After all, Hoffmann, recognized since 2008 by the Guinness Book of World Records for her Pooh collection, has made one thing clear: When it comes to Winnie, she's the ultimate lifelong fan. So why not reach out to other avid fans in a way only she could?
She did so by creating a friendly enhanced giveaway contest combining her extensive collection with one avenue of social media she dedicated to Winnie the Pooh.
Contest for Poohs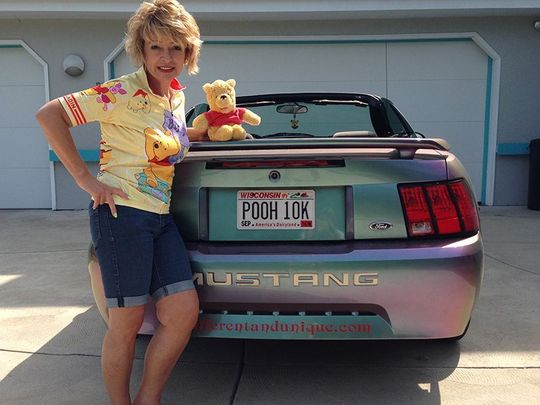 "I started a YouTube channel last year, and I have so many duplicates from collecting that I wanted to be able to share them with people," Hoffmann said. "A lot was vintage stuff that you can't buy anymore. So I got this (contest) idea."
The giveaways actually started as monthly contests in 2017, but as the movie drew closer, she decided to do daily giveaways, ending on the opening day of "Christopher Robin."
To enter the contest, fans first must subscribe to her YouTube channel, MostPooh5150, and watch her weekly video, each of which focuses on some element in her collection, such as a character's backstory or, like in her most recent video, her efforts to clean and sort her collection.
Fans then must answer a question on her collection website, MostPooh.com. The questions can be found by clicking on "Never Enough Pooh" web page link, then on "contests," then on the proper contest number, and finally on "enter contest."
A winner, drawn from all correct answers submitted, gets one sample from her 18,000-piece collection.
Fan connection
The contest was part of a shift in her thinking, from collector of "things" to a collector of fan experiences involving other people, she said.
Like many fans, her interest began with a toy, given to Hoffmann by her parents, when she was very young. As an adult, her fascination and fandom stretched from the world of Winnie the Pooh — which she appreciates for its timeless stories carrying positive messages — to the world of collecting.
She steadily accumulated her record-setting collection over the decades.
That collection turned out to be the best way to connect with fans, who often wanted to learn more about it. Eventually, she decided a way to deepen the connection would be to put Pooh into the hands of others.