Whelchel's Two 'Calls'

A mold of Tom Cruise's teeth? A kiss with George Clooney?
That's a mouthful…but all in a day's work for Lisa Whelchel, who will host both a new reality series, Collector's Call, and a 40th anniversary Lisa's Call marathon of The Facts of Life this Sunday on MeTV.
Touted as the first original series on the classic TV channel (although fans of retro horror film host Svengoolie might strongly disagree), the 13-episode Collector's Call at 10 pm ET will explore personal pop culture collections ranging from Winnie the Pooh and The Wizard of Oz to Coca-Cola paraphernalia, comic books…and one that includes the Cruise mold.
Two half-hour episodes of Collector's Call will air this Sunday, April 7. The first will feature one man's dual collections — of Hollywood props and memorabilia, and of Presidential signatures and locks of hair. The second is filled with nostalgic toys and advertising.
Whelchel, who played Blair Warner on The Facts of Life (NBC, 1979-1988), will also present Lisa's Call, a collection of five of her favorite episodes, from 5 pm to 8 pm. The Clooney kiss comes in "The Reunion," which starts at 6:48 pm. Other episodes include the introduction of Blair's cousin Geri (Geri Jewell), who had cerebral palsy both in the show and in real life, and a spoof of The Twilight Zone.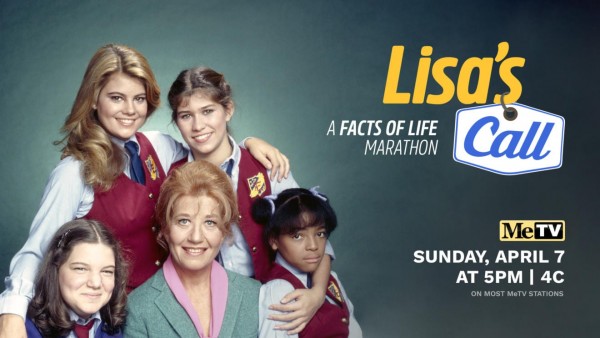 Two episodes of The Facts of Life air regularly on MeTV weekdays at 5:30 am.
Between Lisa's Call and Collector's Call on Sunday, MeTV will run a Columbo movie, Murder with Too Many Notes, from 2001. Lisa Whelchel does not appear.
You can watch Me TV for free with an antenna hooked up to your TV set. For the channel number in your area, check MeTV.com/wheretowatch.