Posted on Sun May 24th, 2015 at 9:22 am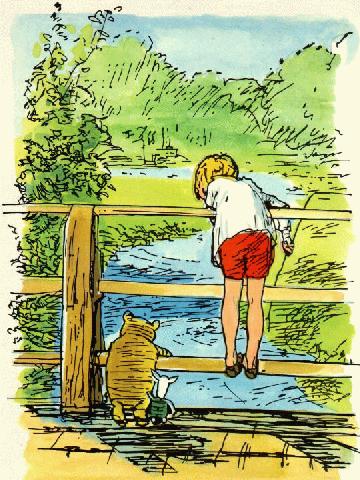 World Pooh Sticks Championships
Sunday, June 7th, 2015
Cogges Manor Farm
at Langel Common on the River Windrush
Witney, Oxfordshire England
Pooh Sticks first came to prominence when it was described in A.A. Milne's book The House at Pooh Corner and the movie Winnie the Pooh and a Day for Eeyore. Pooh accidentally drops a pine cone into a river from a bridge and, after observing how it appeared on the other side of the bridge, devises the rules for Pooh Sticks.

Mike Ridley, owner of 'Pooh Corner' in Hartfield, wrote a very nice booklet about this game. This booklet 'The official Pooh Corner Rules for Playing Poohsticks' was written in 1996 to commemorate the 70th anniversary of the publication of 'Winnie-the-Pooh'.

Wanna play?  Here are the rules...