Posted on Wed May 29th, 2019 at 2:35 pm
Deb Hoffmann - Known for Collector's Call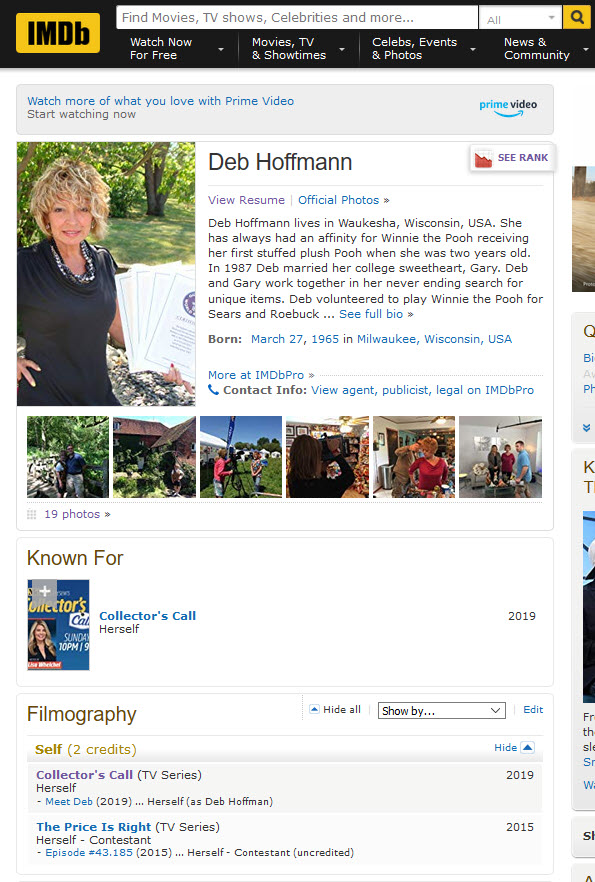 Do you remember the scene in Monster's Inc where Mike Wasowski excitedly say, "I'm on TV!".  That is how I am feeling right now but replace the word TV with IMDB.  And, I am that excited!  I have loved using IMDB.com (Internet Movie Data Base) for looking up movie trivia, actor trivia, movie goofs, movie crew – all things movie and TV for years.  Gary often calls my iPad my IMDB Box.  I always have at least one tab open to IMDB.


In 2015, after doing all the interview at World Poohsticks Championships in England during my "All Things Pooh" tour, Gary many times said I should have an IMDB page.  I have a Wiki page so why not IMDB.  Why?  Because you need to be credited in a movie/show in order to be able to have an IMDB page. 


So, this April, much to my excitement, with having the honor of sharing the little screen with Gary and Lisa Whelchel for episode 3 of MeTv's series Collector's Call – it gave me the opportunity to have an IMDB Page because I made the credits. 

I am so geeked out (it's the little things…).  I am excited to add to my "Known for" section soon.  Maybe if they make a sequel to Christopher Robin they will ask me to participate.